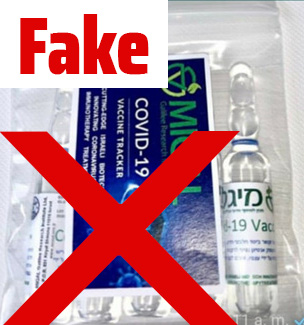 26-05-2020
WARNING!! Fraud Notice – COVID-19 Product
We have just been made aware that a fake pharmaceutical product allegedly for use in connection with COVID-19 is fraudulently being advertised and apparently sold in South America with the logo of Migal and with the following wording: " COVID-19 vaccine tracker. Cutting edge Israeli Biotech innovating coronavirus immunotherapy treatments." A photograph appears below.  

Migal Galilee Research Institute Ltd., Migvax Ltd. and their affiliates have no connection whatsoever with such product and know nothing about it. Migal's name and logo have been used without its knowledge or permission.  

This is fraud and the use of this fake product may endanger your health and safety!!

Please refrain from purchasing or using the product!! 

While Migvax is developing an oral COVID-19 sub unit vaccine, neither Migal, Migvax nor any affiliates currently have any commercially available products for use with COVID-19.  If you see the product that appears below being advertised or any other commercial product being advertised with Migal's logo for use in connection with COVID-19, please notify us immediately at the below address and also contact your local law enforcement and health organizations.