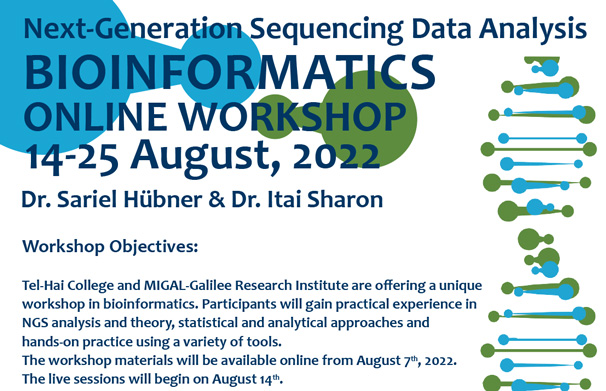 10-05-2022
Next-Generation Sequencing Data Analysis
BIOINFORMATICS
ONLINE WORKSHOP
Dr. Sariel Hübner & Dr. Itai Sharon
14-25 August, 2022
Workshop Objectives:
Tel-Hai College and MIGAL-Galilee Research Institute are offering a unique workshop in bioinformatics. Participants will gain practical experience in NGS analysis and theory, statistical and analytical approaches and hands-on practice using a variety of tools.
The workshop materials will be available online from August 7th, 2022.
The live sessions will begin on August 14th.
The workshop will include the following topics:
Introduction to next-generation sequencing data analysis
Linux command line
Cleaning and trimming raw data
introduction to alignment algorithms and tools
Transcriptome and genome assembly
Expression profiling and statistics
Gene annotation
Genome-wide association mapping, variant calling and processing
Phylogenetic analysis and inference
Eligibility:
The workshop will be taught in English and is intended for graduate students, postdocs, research scientists and industry representatives.
Students can obtain two credit points subject to the approval of their home institution.
For further information, please visit:
http://english.telhai.ac.il/bioinformatics-workshop-2022
or contact us by email: bioinfo@m.telhai.ac.il